Carefully selected seasonal and tasty
Lunch "Wybo style"

On Tuesdays, Wednesdays, Thursdays and Fridays we serve a dish of the day.
Main course and coffee

Menu "Wybo style"
Every day you can enjoy a seasonal monthly menu, by reservation only.

Dinner surprise "Wybo Style"

On Tuesdays, Wednesdays or Thursdays you can be surprised with a delicious 5-course surprise dinner, only on reservation.

Lunch Business Meeting

This is possible every weekday with our reservation module.
Chef's appetizer, starter and main course.

---
AT INFO

In addition to the daily lunch and dinner menus of meat and fish, you can also choose a culinary main course full of tasty and satisfying vegetarian food.
---
WINE ARRANGEMENT
For the lover we have matching wines with the dishes, these can be ordered in a package. The wine and the dish then fit well together. A wine arrangement is tasty and fun. Moreover, you get to know new wines.

€ 18.00 or € 22.00 (Incl. dessert wines)

Of course you can also select a bottle from the wine list, we will be happy to help you make a suitable wine choice for your dish(s).

---
New tasty worldly dishes, always homemade with daily fresh products

---
Are you allergic to certain ingredients?

Let us know, together we will look for an alternative.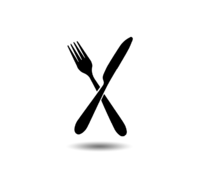 Menu composed with passion by our Master Chef Kevin Buelens in close consultation with team Wybo.
We go for classic and refined dishes, but in our own 'Wybo style".

No boring signs, everything is performed in a hip and trendy way.